So speaks Martin Luther,
so speaks Jesus of Nazareth
A comparison

The Protestant Lutheran Church bases itself on Jesus of Nazareth, the Christ, as well as on Martin Luther. Is Luther's teaching christian? THE THEOLOGIAN No. 3 documents contradictions between Martin Luther and Jesus of Nazareth. In so doing, he compares Luther's words with those of Jesus in the Bible.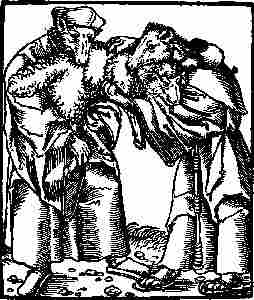 Illustration from the 16th century, showing pastors and monks devouring the sheep of the Christian flock instead of being an example for others.



Links:


The Free Spirit
Citation:
Theologian, Editor Dieter Potzel, Edition N°3: So speaks Martin Luther, so speaks Jesus of Nazareth, Wertheim 1999, English Translation: Wertheim 2001, theologe.de/theologian3.htm, version from 27 th May 2022
Read also:

The law of sowing and reaping and the reincarnation with Jesus, in Bible and Early Christianity

How the Devil wreaked Havoc in the Bible

Elija, Amos and Jeremiah: Prophets as Uncomfortable Critics

The Dangerous Doctrine of Justification


Impressum

Datenschutz

E-Mail: info@theologe.de


Anyone who would like to help finance costs for printing, mailing and Internet can transfer a contribution to the following account: Dieter Potzel, Volksbank Main-Tauber, Bank Identifier Code (BIC): GENODE61WTH, internBank-AccNr (IBAN): DE06 6739 0000 0002 0058 08; Purpose: Contribution to "The Theologian"; Many thanks!